WHERE TO START
We will help you determine what features of your home you want to accent with lighting - trees, walkways, porches and decks or your home's architectural details.

THE DESIGN
Your Interstate representative will suggest certain types of light fixtures to ensure that lighting is even in brightness (luminosity), there is a balance of light and shadow and the placement of each fixture provides a proper sweep of light in the area that it covers.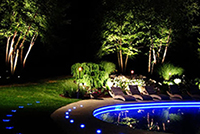 INSTALLATION
The Interstate crew will install the lights with minimum disruption to your yard including existing landscape, hardscape such as your sidewalk, driveway and areas with pools, ponds and decks.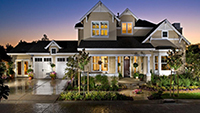 THE RESULT
Whether you use a timer to program and control each area of your lighting system or flood your home and yard with light, your result will be a more beautiful home and yard that reflects your personality.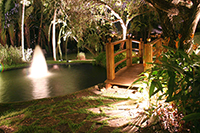 WHERE DOES LIGHTING LOOK THE BEST?
Everywhere. Lighting the front facade of your home, walkway, trees, bushes and flowerbeds, pools, ponds, gazebos, decks, you name it.
WHAT'S NEW?
LED lighting is here and is a great investment including bulbs that last longer and create a brighter display. We can provide a quote to replace existing lighting or design your new system using LEDs. The possibilities are endless.
SOLAR Lighting - we are happy to discuss how your HOA or municipality can utilize solar lighting to be GREEN WITH ENVY!